Cioppino (pronounced chuh-pee-noh), a classic tomato- and wine-based seafood stew, sounds like a dish conceived on the Tuscan shores of the Adriatic.
But it actually emerged on San Francisco fishing boats.
The name had begun to show up, though variously spelled, as early as the 1890s. On June 2, 1893, for example, an announcement appeared in the San Francisco Call that "the Ciupino and Chowder Club" had appointed a number of Italian-heritage gentlemen as its officers.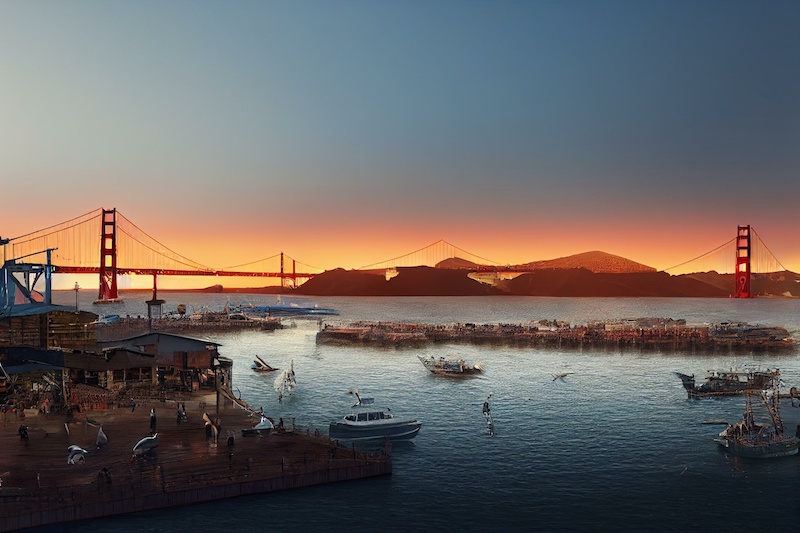 [History note: Chowder clubs were organizations where important people ate, well, chowder. And the people could be very important indeed, as we see in the secretive Chowder and Marching Club, founded in 1949 by then-House members Richard Nixon and Gerald Ford. That one was still meeting, on Wednesday evenings, in 2018, according to the Wall Street Journal.]
We see two ps in "Ciuppino" when it appears on a menu from 1897 for a meal hosted by the Musician's Club of San Francisco.
And "The Refugee's Cookbook," a volume sold to raise funds to benefit San Franciscans displaced by the city's devastating 1906 earthquake and fire, includes a recipe for "chippine" with whitefish, onion, bay leaf, a can of tomatoes, and fresh clams.
Soon after the earthquake, Bernstein's Fish Grotto opened with its landmark entrance — a ship's prow jutting into the sidewalk. It kept "Cioppino or Bouillabaisse" on its menu, promising lobster tail, clams, crabs, halibut, and salmon in the mix.
But where did the San Franciscans get the idea? From their old-country roots.
The Italian origin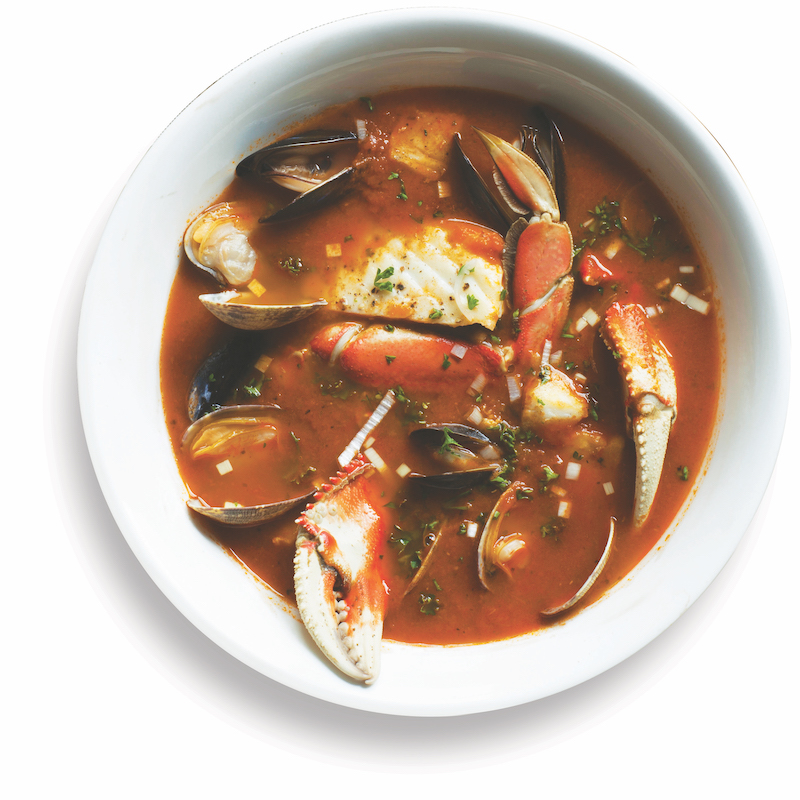 The true origins of the dish, of course, lie in the origins of its creators. By the late 1860s, hundreds of fishermen from coastal villages near Genoa had arrived in San Francisco. They built small boats in their native tradition that proved a good match for the challenging waters of San Francisco Bay.
"Ciuppin" is a word in the Genoa dialect that means "to chop" or "chopped." It's likely a reference to chopping up leftovers of the days' catch.
There's also a tomato-and-wine-based seafood stew called cacciucco linked to the port city of Livorno in Tuscany.
The dish may first have been prepared on boats before it reached restaurant menus.
According to one account of San Francisco, "A great treat rarely savored today is cioppino cooked on the small boats while at sea, with the catch prepared immediately after having been scooped from the cold waters. In that more leisurely era, this was a feast that was regularly enjoyed. Cioppino remains on the menus of most of the city's fine fish restaurants, and its variety of ingredients is infinite."
So what exactly is in cioppino?
Well, you need a firm whitefish (halibut, cod, and seabass are traditional), clams, tomatoes, and seasonings. Nearly all recipes include white wine, and many include shrimp and crab. You can even get fancy and add lobster and salmon. The beauty of this dish is freedom: Add whatever you have at hand.
And that freedom extends to serving. You can serve cioppino over pasta or in a bowl with toasted bread on the side. Traditionally, it arrived with the seafood still in its shell — a fun idea for family, not so much for guests in crisp white shirts.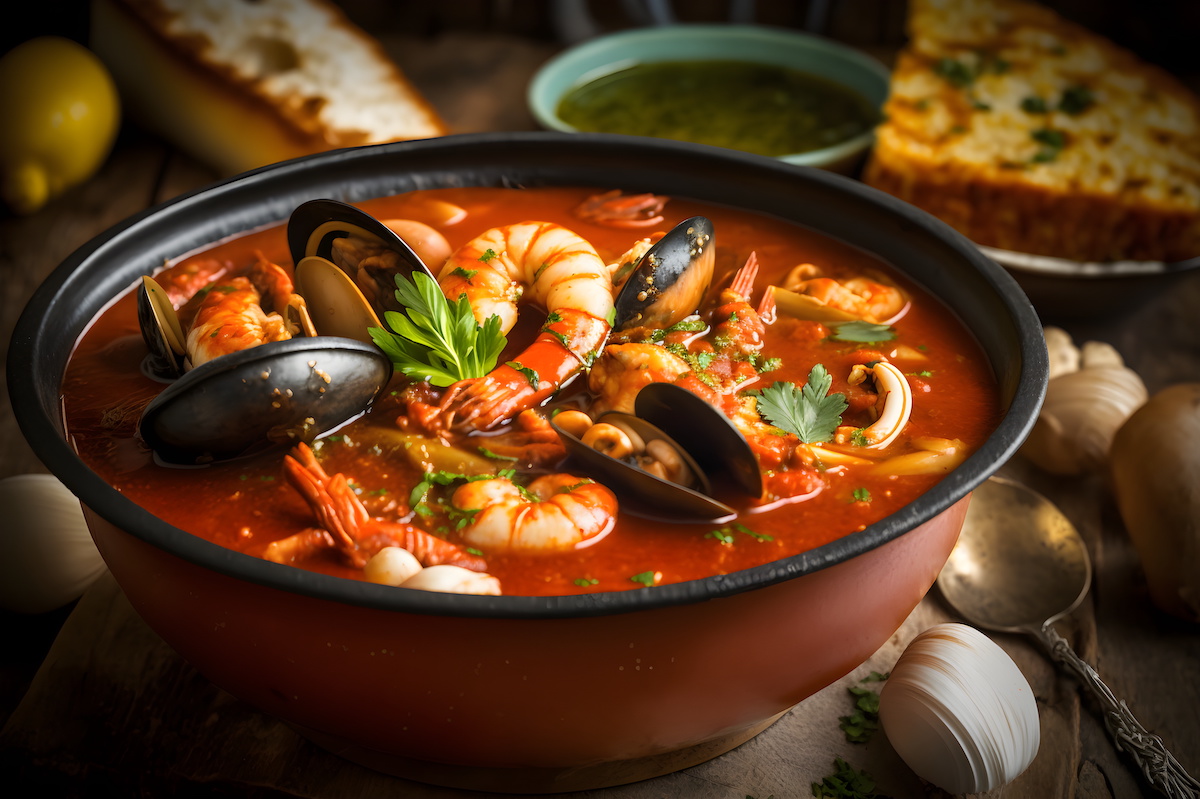 Classic Cioppino
The most important aspect of cioppino is flexibility. If the ingredients below seem to numerous, freely edit or substitute. The fundamentals are diced tomatoes, wine, stock, and small pieces of (usually inexpensive) fish; the rest is open to your improvisational touch.
Ingredients:
¼

cup

olive oil

1

large onion

(chopped)

4

cloves

garlic

(minced)

1

cup

white wine

1

28-ounce can of diced tomatoes

2

cups

chicken broth

2

cups

seafood stock

1

bay leaf

1

teaspoon

dried basil

1

teaspoon

dried oregano

½

teaspoon

red pepper flakes

(optional)

½

teaspoon

black pepper

1

pound

mussels

(canned, or if fresh, scrubbed and debearded)

1

pound

shrimp

(peeled and deveined)

1

pound

cod or halibut

(cut into 1-inch pieces)

½

pound

scallops

½

cup

chopped fresh parsley

Crusty bread

(for serving)
Instructions:
In a large Dutch oven or a heavy-bottomed pot, heat the olive oil over medium heat.

Add the onion and garlic and cook until softened, about 5 minutes.

Add the wine and increase heat to high. Bring to a boil and reduce heat to medium-low. Simmer for about 5 minutes or until the wine has reduced by half.

Add the tomatoes, chicken broth, seafood stock, bay leaf, basil, oregano, red pepper flakes (if using), and black pepper. Stir to combine.

Increase heat to high and bring the mixture to a boil. Reduce heat to medium-low and let the stew simmer for about 15 minutes.

Add the mussels to the pot and cook for 5 minutes or until they begin to open.

Add the shrimp, cod or halibut, and scallops and cook for an additional 5 to 7 minutes or until the shrimp are pink and the fish is cooked through.

Remove the bay leaf and discard. Stir in the chopped parsley.

Serve the cioppino in large bowls with crusty bread on the side to soak up the broth.
---