If you like fish spicy or sweet, you probably enjoy Thai seafood. But chances are you fell in love with it at your local Thai restaurant. Have you ventured into preparing it yourself?
Maybe it's time to give Thai a try. Let's examine the cuisine, and list ways to get started.
First…Some Definitions
Thai food is known for artful taste contrasts, pairing heat with citrus like lime, or landing in the middle between savory and sweet, as in the signature peanut sauce.
Every Thai dish comes with vegetables and herbs. Think lettuce and bean sprouts with cilantro, galangal (a spice in the ginger family), basil, and mint, for example.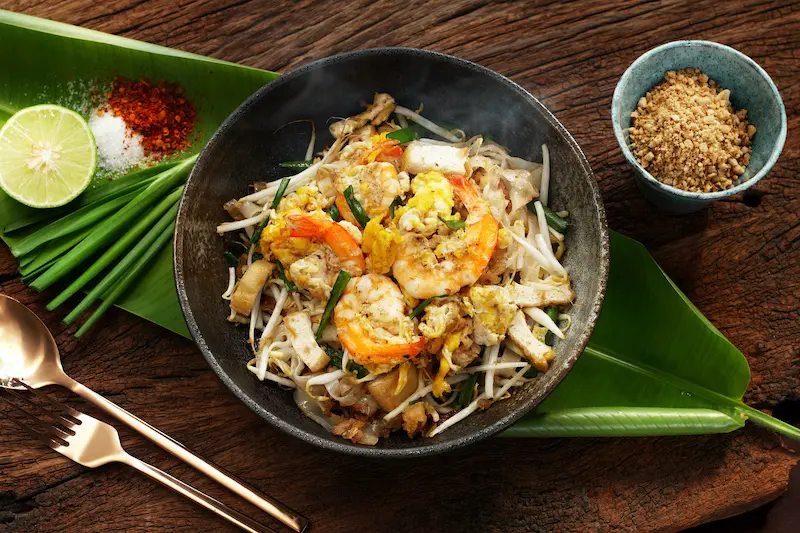 You might see the influence of India or China, but would you guess that Thai food was radically changed by the Portuguese? An emissary from Portugal arrived in 1511 — a century before any other European — and met King Ramathibodi II, presenting him with a golden sword in a diamond-studded sheath. Later the Portuguese would bring chiles from South America. Thai cooks used it to replace the spicy heat of their traditional green peppercorns.
Because Thailand is a large country, the cuisine varies by region. And since it's also an agricultural nation, the traditional dishes vary with the seasons for the freshest ingredients. Here are the distinct styles of Thai cooking:
In the north, people use sticky rice, traditionally kneaded into small balls, and the food is influenced by neighboring Myanmar.
Travel east, and you'll find food influenced by Laos. It's highly spiced and focuses on shrimp and freshwater fish, often fermented, for protein.
The cuisine that originated in the royal palace involves complex techniques and is served with jasmine rice.
In the south, you'll find the food Americans tend to think of as Thai, with coconut milk, cashews from local plantations, and lots of fresh seafood. Panang and massaman curries originate here, and they have a thicker sauce and reflect influences from Malaysia.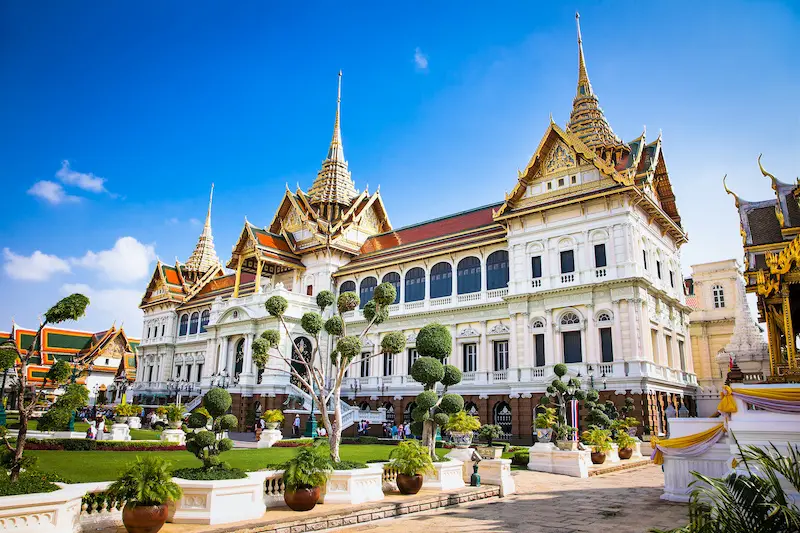 How hot is a Thai curry? Follow the color code: The hottest is green, red (like panang) comes next, followed by yellow (like massaman) and orange.
Nam Pla is Nonnegotiable
To cook authentic Thai, you'll absolutely need fish sauce. Nam pla is a rich, translucent reddish-golden liquid that has been extracted from seafood like anchovies or shrimp. The seafood has fermented with salt for up to two years. We understand if you don't want to do this yourself — hey, we're in a hurry! The good news is that you can find fish sauce in a gourmet store or Asian grocery.
Now, for some specific dishes.
Do you customarily pan-sear salmon filets? In less than half an hour you can turn your salmon up a notch by saucing it with a combination of vinegar, honey, garlic, red chile, soy sauce, lemongrass, and Thai fish sauce.
Is your spice-loving partner battling a cold and in need of a sinus-clearing chicken soup? You can make your own tom yum soup flavoring chicken stock with lemongrass, grated lime zest, lime juice, cilantro garlic, red chiles, shiitake mushrooms, cherry tomatoes, and nam pla. He or she may not feel like eating, but you'll get some protein into him or her with the addition of perhaps six shrimp per serving. Add canned coconut milk for those who like sweet rich creaminess.
The most popular salad in Thailand is som tam, featuring green papaya with a chile pepper dressing. You'll need an unripe papaya, green beans, cherry tomatoes, bean sprouts, scallions, and basil, plus lime juice, garlic, chile pepper, and fish sauce. Want to make it a full meal? Top it with cooked shrimp, crabmeat, and perhaps cashews, and serve it with a bowl of sticky rice.
It's surprisingly easy to make a Thai-style fish filet, too. It's traditionally baked in a banana leaf (now available online), but you can simply use tinfoil or parchment paper instead. Experiment with salmon, cod, lingcod, or another favorite fish. You'll need all the usual Thai spices, plus coriander, galangal, and coconut milk.
Put all the ingredients through a food processor until blended. Then marinate your fish in half of this mixture (save the rest for later) in the refrigerator for at least 10 minutes. Wrap the marinated fish into serving-size packets. Bake them in a glass casserole dish at 350 degrees for about 15 minutes, depending upon the thickness of your filets. Check doneness by inserting a fork to see if the fish is opaque. Serve with the reserved marinade, heated up, and jasmine rice.
Like many Thai dishes, this one is forgiving; it's delicious even if a bit overcooked. Thai food is typically unfussy and simple, ample reason to make it a home.