What if the easiest way to cook a seafood dinner was also one of the tastiest? And what if the method worked with all sorts of fish and all sorts of sides, too?
Wonder no more. The French call it Poisson en Papillote: Fish in paper.
Cooking fish in parchment paper is easy. It involves divvying up your filets and accompanying veggies into single servings that you'll wrap up and bake in the oven. The packet holds in the juices and steams the fish and veggies, all while essentially creating a homemade sauce.
The result: a tender, juicy filet that your family members or dinner guests get to unwrap at the table like a present. What a gift!
Perfect Parchment Packages
Wrapping items before cooking to improve taste, texture, and convenience dates back to prehistory. Indigenous people swaddled fish, meat, and vegetables in banana-leaf packages before placing on the coals, a practice still common in Indonesia and other tropical locales.
The French have wrapped foods in paper before cooking for centuries – a dicey business, as the paper had a tendency to combust.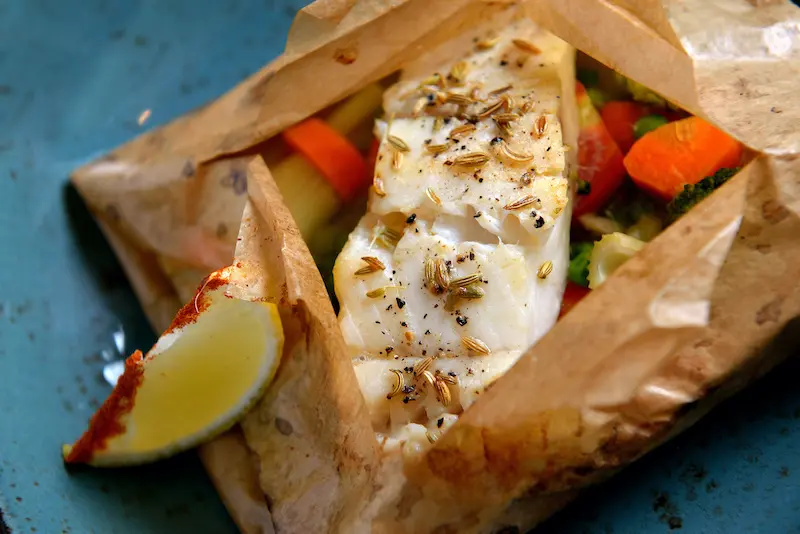 Enter modern "parchment paper" for cooking, made by running paper sheets through a sulfuric acid bath, which partially dissolves the fibers. They reform by cross-linking when cooled. The resulting paper is dense, heat-resistant, and less sticky than before.
It's called "parchment" because it resembles the color and texture of old-style writing paper, but it is chemically and structurally distinct, especially in its relative lack of combustibility.
Baking cod in the Declaration of Independence is not recommended.
The fish in parchment cooking method doesn't require any fancy tools or materials. You'll use the same parchment paper and baking sheet you might already have on hand for non-stick baking of vegetables or cookies.
This cooking method works best on fish fillet of relatively even thickness, like center cuts. Any firm, flaky fish will do — we especially like wild salmon and wild Alaskan cod.
First Things First
To start, rip off one big square of parchment paper per serving. Brush the sheet with butter or your favorite healthy oil. Then, top your oiled or buttered parchment with a small bed of veggies to roast.
The key is to match the cooking time of any vegetables to that of the filet.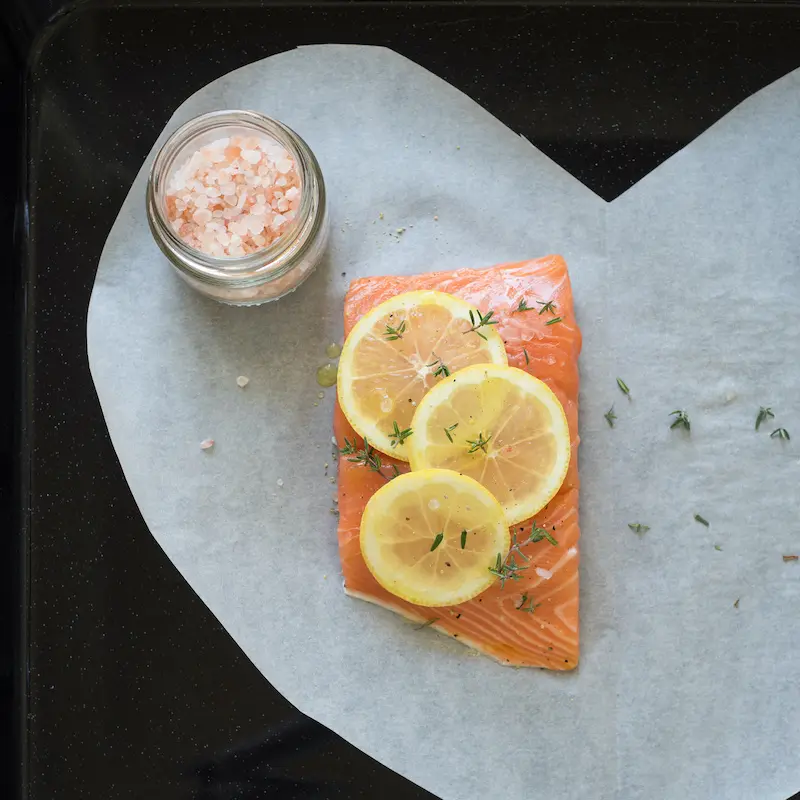 Quicker-cooking veggies like spinach, halved cherry tomatoes, green beans, asparagus, or mixed greens are all great choices. Other options can work too, so long as they're thinly sliced or finely chopped, like potatoes, zucchini, squash, or broccoli. If you're worried, you can also pre-cook veggies like whole baby potatoes or Brussels sprouts, and just finish them in the packet, though this does add another step!
Next, lay your fresh filet on the bed of veggies and top with fresh herbs, lemon slices and salt and pepper or your favorite seasoning blend. You might add an extra drizzle of butter, olive oil, lemon juice, white balsamic vinegar, or wine, or throw in some olives, capers, and feta for a Mediterranean treat.
Then just fold up your paper like a burrito or in half like a calzone, and you've got a perfect parchment package ready to bake in the oven. It doesn't need to be air-tight; it just needs to stay shut while baking.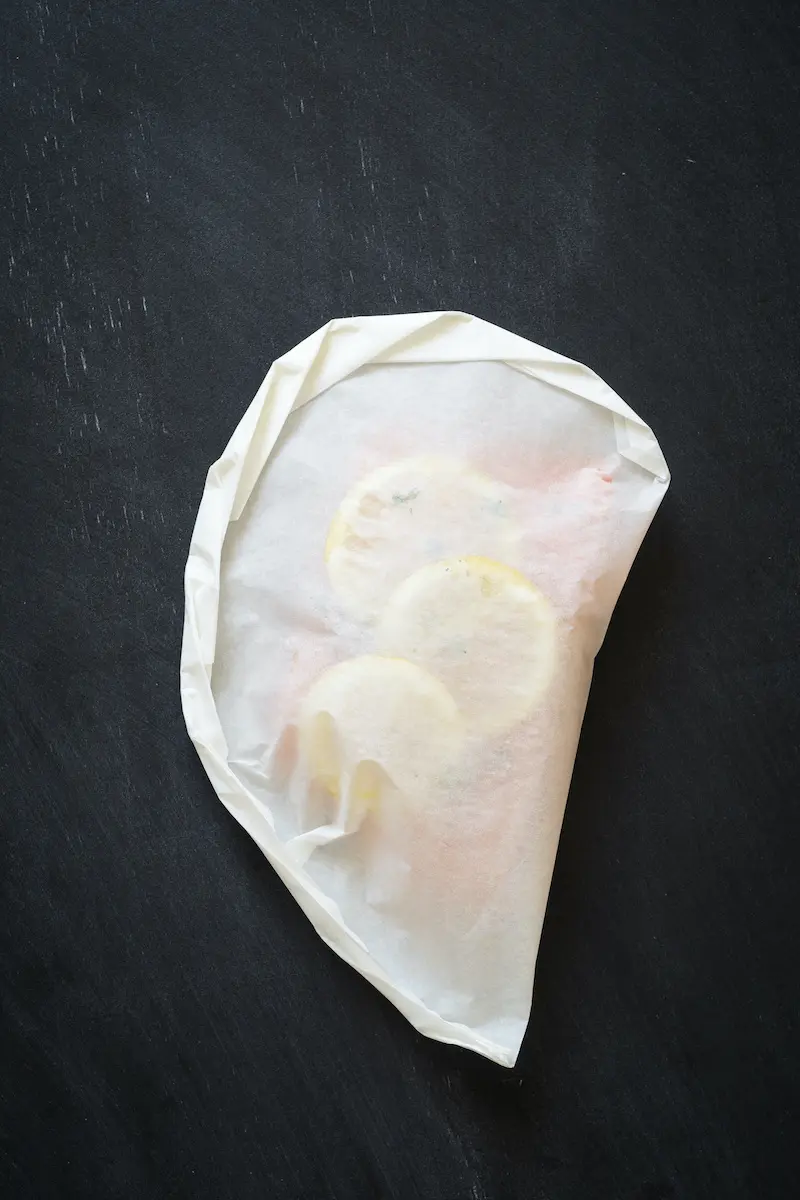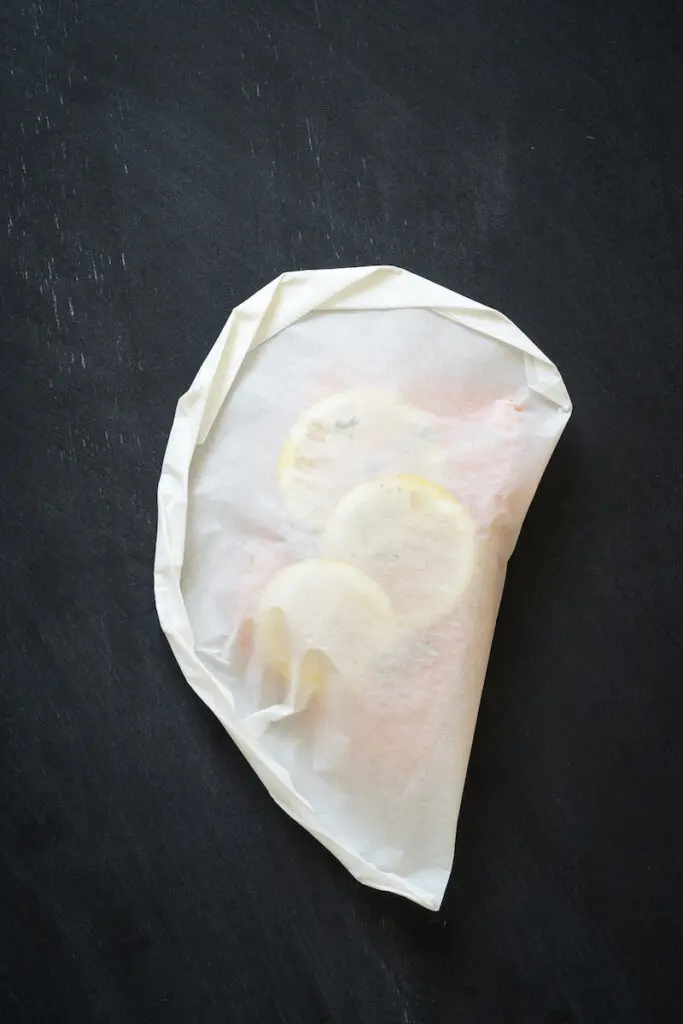 For best results, put this right on the baking rack, putting a baking sheet below your packets to catch any drips.
Bake at 375F for 10-15 minutes (closer to 10 for thinner filets such as salmon tail sections).
Poisson En Papillote Plusses
Poisson En Papillote locks in moisture, keeping filets juicy and tender. It's a great strategy even for cooking newbies who've lamented their charred or dried-out seafood. And the packets can even be prepared in advance — great for busy families and dinner parties alike. It makes for a great cookout or camping food, too, since everything's already prepared. Just add heat!
Once the packets come out of the oven, keep them closed and serve them right onto plates. Diners will love opening their parchment presents and being greeted with a whiff of aromatic steam. Or pour the packet contents out over healthy grains or whole wheat pasta for a different take on Poisson En Papillote. Either way, cooking fish in parchment is a wonderful way to cook perfect fish filets while packing seasonal veggies and herbs into your well-balanced seafood meal.
Here are just a few of our favorite flavor combinations for Poisson En Papillote:
Lemon, butter, and rosemary over asparagus (the classic!)
Fresh basil, halved cherry tomatoes and feta over spinach
Green olives, sun-dried tomatoes, and garlic over thin-sliced red potatoes
Fish sure looks good on paper!