Lobster is considered a luxury today, but historically, it was a food for all of us. So numerous were lobsters in the colonial era that they sometimes piled two-feet deep on New England beaches after a storm.
If you've only known the versatile lobster in its iconic "dipped in melted butter" presentation, you'll enjoy this global tour of our favorite lobster recipes. Some will extend your precious lobster meat into a filling meal, while reminding you of its peasant roots.
New York City
Lobster Newburg has a couple of origin tales. In the most popular account, it was invented in the 1870s at Delmonico's, a steak house serving Wall Streeters. It quickly became popular on the city's beach resort, Coney Island. Why is it called "Newburg"? Supposedly this lobster recipe came to Delmonico's from a frequent patron, a wealthy sea captain, Ben Wenburg (or berg). He later had a "falling out" with Charles Delmonico, according to historical accounts. Delmonico kept the dish on the menus but, apparently out of spite, reversed the "W" and "N".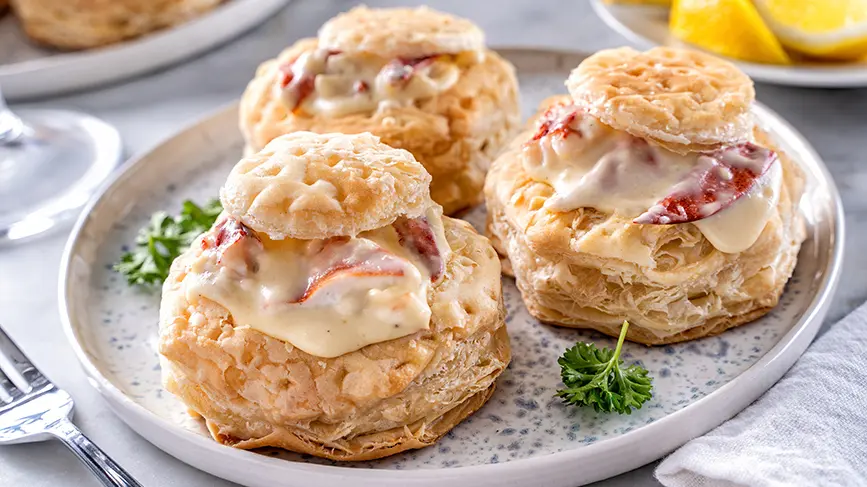 To make it, pour a sauce of clarified butter, cream, egg yolks, Madeira wine and cayenne pepper over lobster tail chunks.
Lobster Fra Diavolo, which means Brother Devil's Lobster, may come from Naples, or it may be entirely an Italian-American invention, from perhaps the 1930s. It appeared on several New York City restaurant menus early on, and Frank Sinatra was a fan.
Traditionally, you'd see the lobster in half-cracked shells atop pasta (see the image above this article) but that gets messy. Spoil your guests and serve shucked lobster tail. This dish gets fancy with a good seafood stock, and fennel, garlic, red pepper, and chiles to taste in a tomato sauce.
Kingston, Jamaica
Curried lobster will take you to the islands. Cook your lobster meat with tomato, garlic and chiles again, but this time add a Jamaican spin on curry mix. Jamaican curries often include allspice (which you'll see sometimes in jerk pork, too) and have more turmeric and fresh chiles than you might see in Indian dishes. You can add coconut milk, too.
France
Lobster Thermidor, based on a classic lobster recipe and served in traditional French restaurants, features lobster chunks mixed with a rich sauce, stuffed back into the shell and browned. It was probably named after an 1891 play, "Thermidor," which referred to the 11th month of the French revolutionary calendar ( July 20 to Aug. 18 in our calendar). This play was a popular attraction around the time of the dish's creation.
It's impressive but simple to prepare. The hardest part is cutting up lobster meat and putting it back into the shells, but you can do without the shell and serve it in individual casserole dishes. Make a classic cream sauce with white wine, seafood stock, mustard and lemon juice, spoon it over each serving, sprinkle Parmesan cheese over the top and broil your lobster for a few minutes.
Maine
Move aside lobster rolls!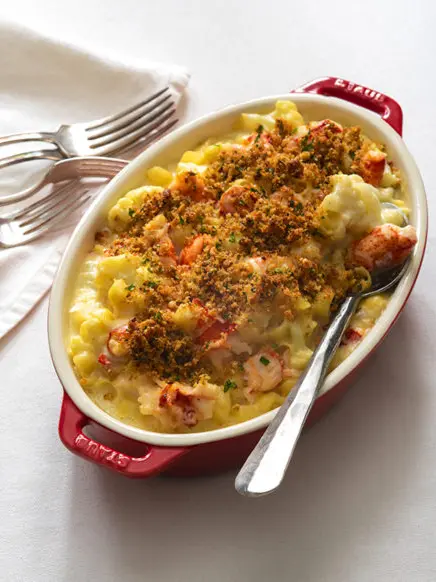 Lobster Macaroni & Cheese, an American invention that neatly straddles posh and plebeian cuisines, now shows up as a high-end choice in Maine or East Coast restaurants [Editor's note: I can gladly attest it has made it all the way to Arizona] with corkscrew pasta in a decadent cheese sauce, topped with fresh lobster meat.
At home, if you like, your recipe could substitute canned crab or cooked shrimp for the ever-versatile lobster. Make a simple roux with butter, flour, and seasonings; add milk, cream, and shredded cheese (Gruyere, cheddar, swiss, mozzarella or havarti all work, but some parmesan is a must); combine with cooked pasta; add your seafood; and top with parmesan-seasoned breadcrumbs before you bake.
Lobster Corn Chowder is more filling and informal than lobster bisque and will please children as well as their parents. Cook corn kernels with cream and water (plus white wine if only for grown-ups) and puree in a blender. Add carrots and leeks cooked separately in butter; then cooked lobster meat; and finally your seasonings, perhaps fresh basil.
Singapore
Chili crab is a restaurant classic in Singapore, but you can make it easily at home if you use cooked and shelled meat, either crab or our versatile lobster. Cook garlic, stock, sambal oelek (an Indonesian chili sauce available online or in Asian markets) with tomato paste or ketchup; thicken with an egg; and set your sauce aside. Heat your lobster; and serve it on a platter with cooked baby bok choy on the side, plus a dish of sauce.
Italy
Seafood risotto is an easy dish that barely requires a recipe. The secret is a pinch of saffron and bottled clam juice. First, toast your arborio rice in a pan with cooked onion, carrot and celery. Add saffron and some wine. To plump it up, you'll be adding previously heated clam juice diluted with equal parts water. Add the clam juice a half cup at a time, stirring along the way. When the rice is al dente but the mixture creamy, add seasonings, perhaps lemon zest or salt and pepper. Next, add your seafood. Go for lobster for a treat, but you can also make this with cooked mussels and Parmesan cheese.
---