In New Orleans, jambalaya shines at every church supper. You're also sure to see it at family gatherings, especially before and after parades in the boisterous winter Carnival season. The cross-cultural dish is a perfect match for that famed celebration.
Jambalaya is a spicy rice stew. Like paella, it can combine chicken, sausage, and seafood or showcase seafood only.
Today the word refers to dishes that are termed either "red" or "brown." One story is that people in New Orleans aimed to make paella, a saffron-based dish from Spain, but they didn't have saffron so they used tomatoes. In rural Louisiana, tomatoes were a luxury, so their jambalaya is brown — reflecting the meat juices — and it's also spicier.
You might think of red jambalaya as city food and brown as country cooking.
A mishmash of origins
The origin of the singsongy name is somewhat mysterious. According to the Oxford English Dictionary, it comes from the Provençal word jambalai, which means, roughly, "mishmash" and didn't necessarily refer to food.
But as with many words, people have been creative, inventing plausible (and unproven) etymologies. Many point to the French and Spanish words for ham: jambon and jamón. The French ruled Louisiana before ceding it to Spain in 1764, and the region continues to have a strong French influence. People may have slurred together "jambon/jamón" with "paella." That said, ham is not a defining ingredient in jambalaya (although it now often includes pork sausage).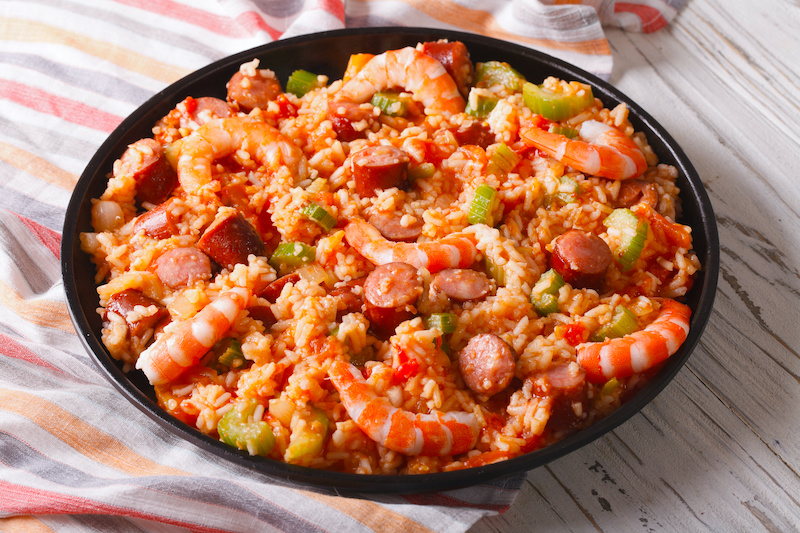 At its heart, jambalaya is a mélange, the result of mixing more than just two cultures. The American South wouldn't even have had rice without the knowledge of enslaved Senegalese, for example, who had cultivated it back home. The Germans brought Old World sausage expertise, and cayenne probably came from the Indigenous people.
Make it red
The tomato-based dish is known as Creole style. Creoles are descended from French settlers in New Orleans, though their culture mixes Caribbean, Spanish, German, African, and Portuguese influences from the diverse population of the city. Creole is also a language spoken by Black people in southern Louisiana that evolved from French.
Red jambalaya is probably influenced by West African jollof, a medley of rice, tomatoes, and meat flavored with white pepper and butter familiar to the enslaved population.
Both red and brown jambalaya start with a base of sautéed bell peppers, celery, and onion, a classic sofrito now linked to the Caribbean. Some claim it first came from the Catalan region of Spain. Others say it's a mirepoix adapted from the French.
In Creole jambalaya, the next step is to add a meat: chicken or andouille, a spicy smoked sausage. That's followed by rice, tomatoes, and spices such as bay leaf and smoked paprika. Seafood, most often shrimp and crawfish, goes in at the end so it's not overcooked.
The term "Creole tomato" may not refer to a particular cultivar, though loyalists of vine-ripened tomatoes grown in soil south of Lake Pontchartrain in Louisiana insist that only these are worthy of the name. The soil is filled with organic matter from moving rivers, which gives the tomatoes a particular punch.
Some aren't pretty, but while they might be gnarled and greenish, they are still especially sweet inside. These are also the tomatoes you want in a Southern tomato pie.
Make it brown
The Louisiana Cajuns are an entirely different group. Their ancestors were French émigrés to the Acadia region of Canada, which includes present-day New Brunswick, Prince Edward Island, and Nova Scotia. When the British conquered Acadia in the 1700s, they pushed out the French (les Acadiens). Rice was not a significant part of their diet in that northern clime.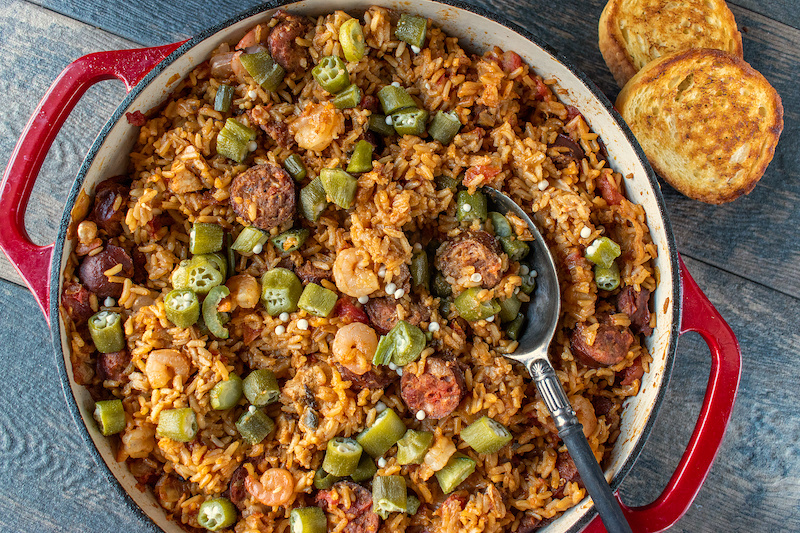 Some Acadians returned to France and others landed on the French-ruled island of Santo Domingo (now Dominican Republic and Haiti) before coming to Louisiana, where they settled in the low-lying swamp country. Crawfish, shrimp, and oysters were all readily at hand, and old-timers might throw in alligator, turtle, or wild duck.
In this modern recipe, chicken and sausage are seared and caramelized, turning the rice brown. This version also has a touch of tomato paste and some shrimp.
For a tomato-free version, try this recipe with chicken stock rather than tomatoes, along with andouille, and lump crabmeat.
You can get into the spirit of the dish by adding any shellfish you favor. But remember, if you use more than a hint of tomato, you're shifting from Cajun to Creole.
Jambalaya or gumbo? Etouffée?
Ask Louisiana natives, and they'll tell you that jambalaya is the easy dish; gumbo, which is soupier, and étouffée are the advanced class. Both involve making a roux and are served over rice rather than with the rice cooked in, as in one-pot jambalaya.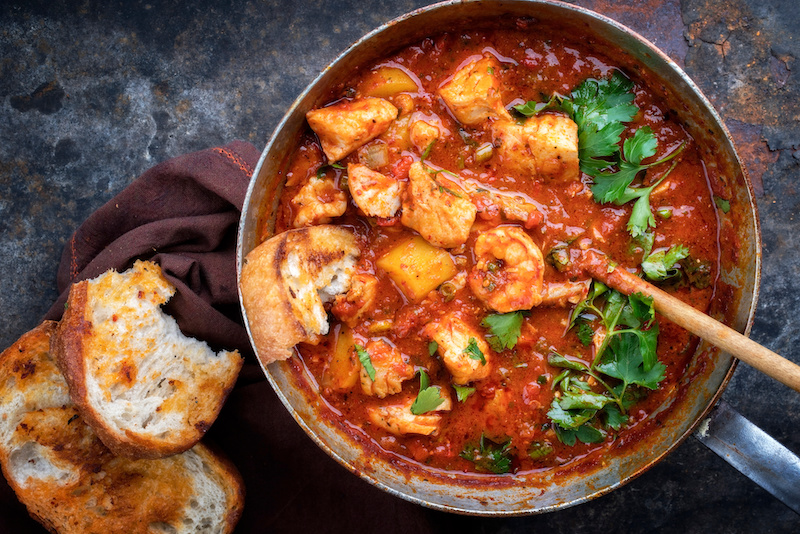 Gumbo is not, as some say, a variation of bouillabaisse. It's based on okra, which sounds like gombo in several West African languages, and gombo is still the French word for okra. In the 1720s, half of the residents of New Orleans were Africans familiar with okra. At the same time, the Choctaws cooked with powdered sassafras, which they called kombo, and the Creoles called itfilé. It's likely that some cooks substituted filé for okra as their thickener.
You might try this Creole gumbo, which includes tomatoes, okra, shrimp, crab, and oysters. Gumbo can combine chicken and sausage, too.
Etouffée (from the French word for "smothered") is more focused on seafood, though it might contain chicken. It's lighter and sweeter than gumbo. You'll poach shellfish in a light gravy made from seafood stock, garlic cloves, Worcestershire sauce, hot sauce, vegetables, and Creole seasonings built on a creamy white roux.
How hot will you go?
The main heat in Louisiana cooking comes from cayenne pepper and smoked pork. Whether you cook red or brown, rice mixed in or separate, you'll need to decide on the spice level for your family.
Jambalaya feels special for a dish that's suitable even for beginner cooks. Trust us: Make a pot of spicy comfort food, and your family will feel like dancing in the streets.
---
This simple recipe, created by food blogger Kellie Hemmerly from The Suburban Soapbox, is a zesty take on a Creole classic. A simple recipe packed with southern spices makes this dish a hearty addition to your culinary arsenal.
Summer is done differently in the South. This dish is a tribute to long humid afternoons on the bayou, fresh shrimp, Louisiana spices, and Bourbon Street cuisine. It consists of Cajun spices blended with savory chicken, andouille sausage and shrimp, swimming in a spicy stew and rice medley, making this dinner hearty and memorable.
And it couldn't be simpler to make thanks to Harry & David's Jambalaya Soup Mix. This tasty blend of southern spices make this soup a love letter to a Louisiana staple.
The chicken and sausage is simmered in the soup mix for hours in the slow cooker before adding the remaining ingredients. Serve with cheesy biscuits and a green salad for a perfectly impressive dinner worthy of guests or just a quiet family dinner.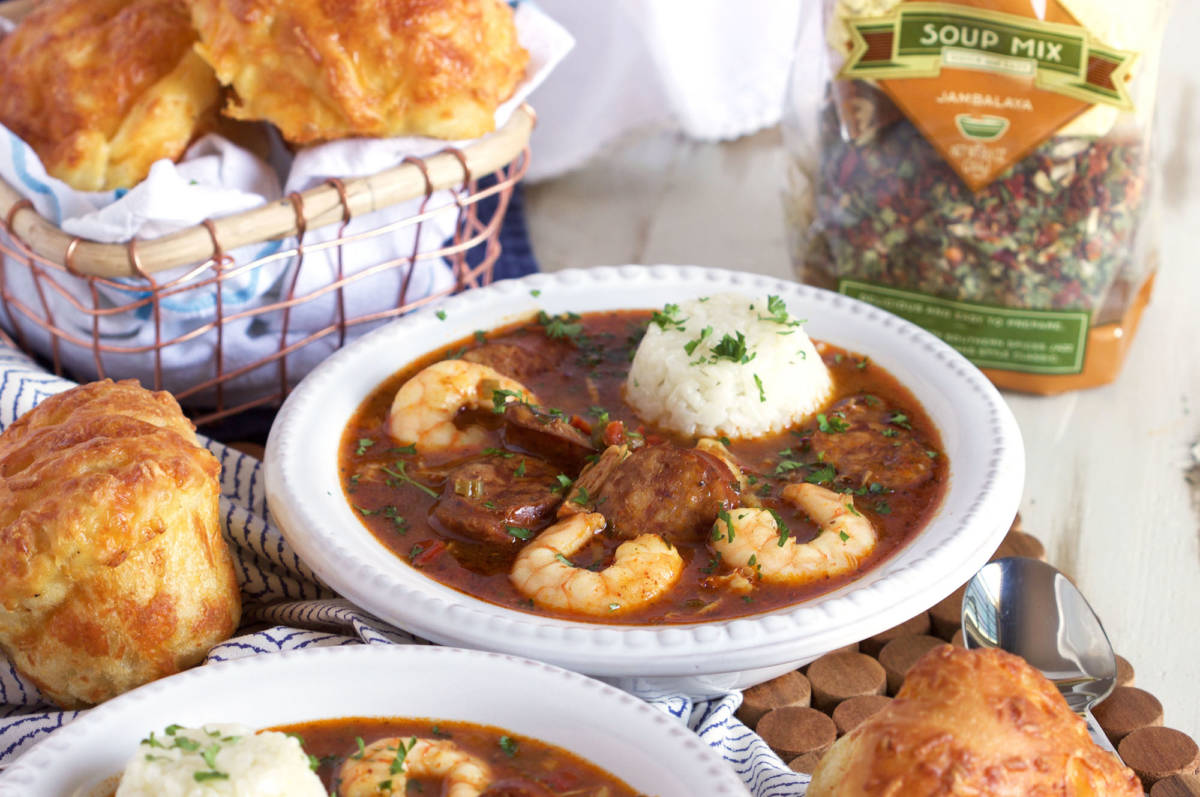 Slow Cooker Jambalaya Recipe
Ingredients:
package

Harry & David Jambalaya Soup Mix

8

cups

water

5

boneless skinless chicken thighs

3-4

ounces

Andouille sausage links (sliced)

½

lb.

peeled and deveined shrimp

2

cups

cooked white rice (for serving, if desired)
Instructions:
Set aside the yellow soup base packet and rice

In a slow cooker or crock pot, combine the water, vegetable packet and red seasoning packet

Add the chicken and sausage to the soup mixture

Cover and cook on high for 3 hours

In a small bowl, whisk together the yellow soup base with 1 tablespoon water

Add the yellow soup base and rice to the slow cooker stirring to combine. Cover and cook for 30 minutes

Add the shrimp to the soup, cover and cook for 30 minutes longer.

Serve immediately with 1/2 cup cooked rice, if desired.