Attend a Cantonese wedding banquet, and you can expect to see a platter of steamed whole fish in a place of honor.
One of several "lucky foods," steamed fish is also obligatory on the Lunar New Year menu. Tradition dictates that eating fish brings abundance in the coming year. Why? Because the Cantonese character for fish, yú, is pronounced the same way as the word for surplus or plenty. Cantonese is full of words that sound the same. Pun-lovers, a lonely group outside of China, can rejoice.
However, you don't need to wait for a wedding or holiday to steam fish. It's a quick and easy style of cooking that provides dramatic results: a luxuriously silky protein with minimal fat and maximum flavor.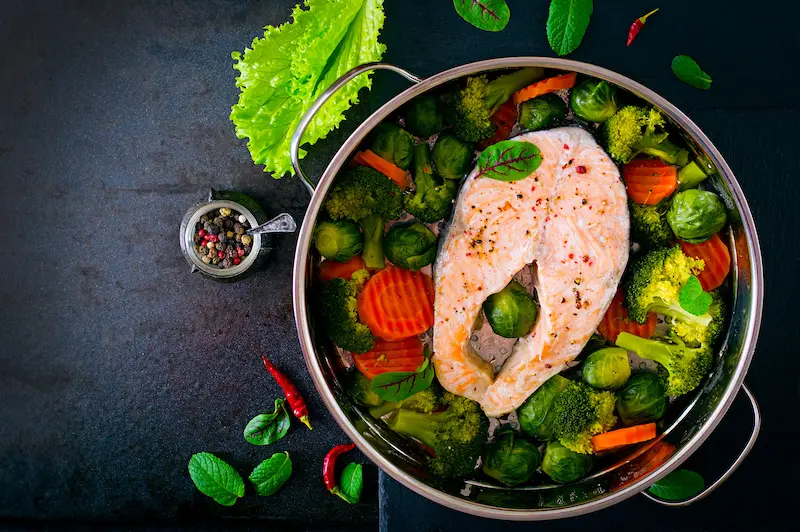 And yes, it is easy. As beautiful as those banquet platters are, you don't need a whole fish. Fillets work just fine. Go ahead and capture the lovely moist texture and clean, pure flavors of steaming while skipping the unfamiliar-to-Americans fish head and spine. Steaming is ideal for any firm fish, including cod, haddock, sea bass and even the U.S. and U.K. favorite, salmon.
You also don't need special equipment. Or a taste for puns.
Steaming Chinese style
To make the most classic Chinese banquet dish, marinate your favorite fish in soy sauce, scallions, fresh ginger cut into matchsticks, and rice wine for at least a half hour. Those are essential. Optional extras include fresh sliced garlic, sliced dried chili, or sesame oil.
In China, cooks use traditional bamboo steamers for cooking with water bubbling under the fish or meat, Some recipes also involve wrapping the fish in leaves. However, any pot with a steamer insert could work.
Depending on the thickness of the fish, you might need eight to 15 minutes – no more or you'll get a rubbery texture. The final step is to pour over a sauce, made with the marinade ingredients, plus a little sugar and without the wine. Tradition requires a sprinkle of fresh scallion greens on top.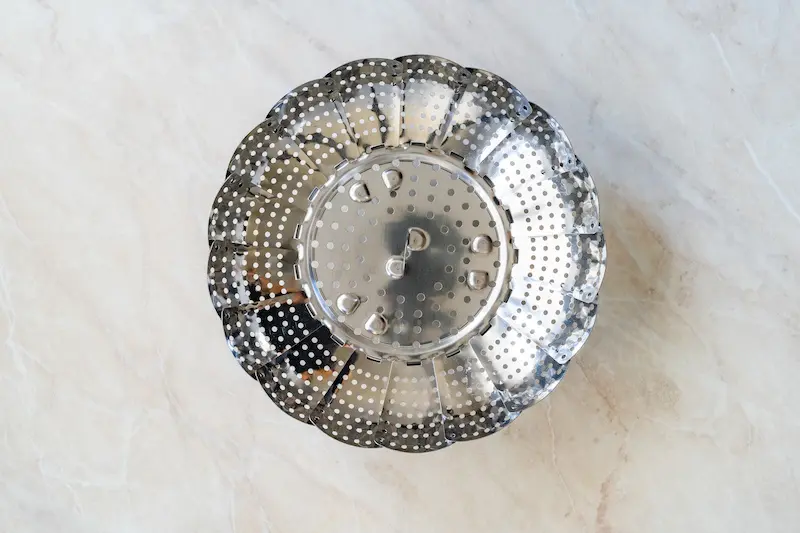 For variety and super-nutrition, courtesy of Hawaiian chef Chris Kajioca, consider this recipe for steamed black cod (aka sablefish) wrapped in kale leaves and served with sweet potato, two vegetables that are especially good for us. Look here for more on the magic of black cod.
Steamed fish can be served warm, at room temperature, or cold from the refrigerator. It's a flavorful aromatic dish that will satisfy cravings for the fresh, salty taste of the sea.
How to steam fish without a steamer
No equipment? Have no fear. New York chef Connie Chung has a variation easy enough for weeknights: skip the marinade, and instead cut the fish into one inch cubes and perform a quick brine, letting the cubes sit in sea salt or kosher salt for at least 10 minutes. This helps ensure tenderness. Then you can cook the cubes directly in the sauce, in an ordinary pot, for no more than 12 minutes.
For a one-pot dish with veggies, try this version with mushrooms and Napa cabbage, which also doesn't require a steamer basket. The cabbage leaves act as an edible steamer basket, protecting the fish from the pot's boiling liquid.
How to steam shellfish
Steaming is gentler than boiling, preserving flavor and nutrition. When you boil food, much of the good stuff leaches into the water—save that for a soup or stew in which the liquid is part of the meal. Steaming also requires less water, so you don't have to wait as long while it heats up to the boil.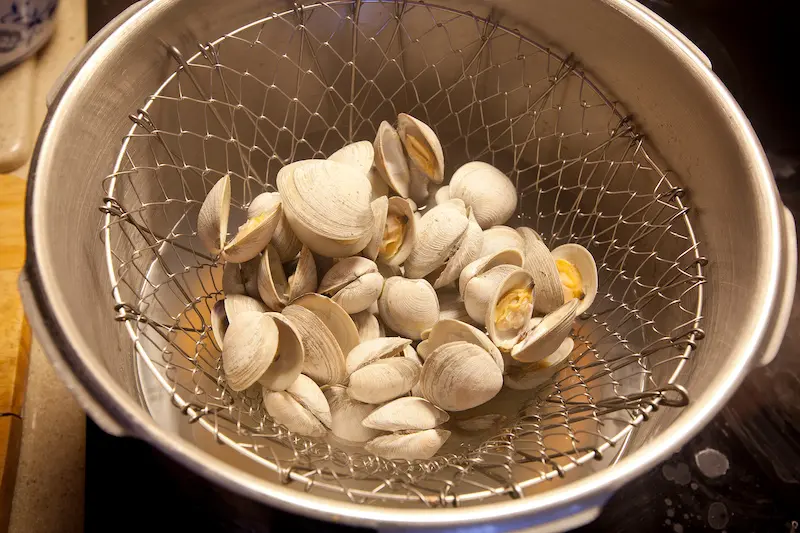 You can steam shrimp (many people add vinegar or beer to the water, along with seasoning), lobster, or really any shellfish. Steam scallops with any favorite vegetable and dress it with lemon, garlic or whatever you please. The classic "Old Bay" seasoning includes celery seed, paprika, mustard, salt, red pepper, and black pepper.
Despite the name, a traditional "Seafood Boil" is better if you put the seafood in steamer baskets. Remember, the faster the water heats, the sooner your hungry crowd eats!
So go ahead: steam. Because it involves less added fat, you might think of steamed fish as diet fare. But as our Cantonese friends make clear, steamed seafood is inherently elegant and delicious, and the gentle kiss of steam is likely to become one of your preferred seafood cooking methods.