Most people, and no doubt our readers especially, love the sweetness of salmon. Higher-quality salmon tastes even better.
However, there may be one or two people in your house who haven't embraced salmon, or any fish. And that's unfortunate, as salmon is among the most healthful foods one can eat. Can you win them over? It's worth a try.
The first step is to make sure you're serving quality fish. Freshness equals quality, so unless you caught the salmon yourself, buy it frozen. As readers of these Vital Choice missives know, the "fresh" fish you see in any retail store seafood display was frozen and thawed. The better route? Choose salmon that was frozen immediately after the catch and do the thawing yourself.
In the common-sense department: If your salmon-wary person loves a particular mustard, bottled barbecue sauce, or salad dressing, you might put a dash of it on this person's filet in a pan for a quick-night dinner. The rest of you can eat a different preparation.
If you like to experiment, here are some salmon recipes and tips to use as starting points.
Give it a bath
Soak your fillets in a bowl of milk for 20 minutes to tame any fishy smell. That odor can be noticeable when a normally odorless compound, trimethylamine oxide, is exposed to air. The protein in milk called casein will bind with it and neutralize it, and also give it an appealing texture within and without.
If that sounds weird, remember that Southern cooks soak chicken in buttermilk, which helps make it crispy on the outside, tender within. Milk isn't just for cereal!
Pat the skin dry. Now you can pan-sear your fish and crisp up the skin. At the end, dress it with a glaze and cook a bit more.
Make it saucy
You may not need the milk bath if the sauce is sufficiently and deliciously distracting. Is mustard acceptable to your target eater? Mix up mustard, brown sugar, maple syrup, soy sauce, and vinegar.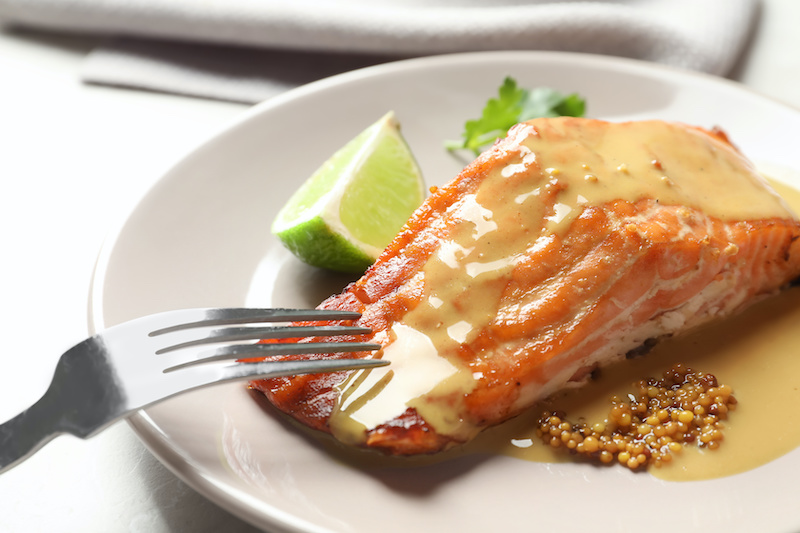 Does your person like sweet Chinese ginger salad dressings? Mix honey with freshly grated ginger, sesame oil and sesame seeds, plus soy sauce — a combination that one salmon-hater now serves weekly.
Bake or pan-sear your salmon first and brush on your glaze near the end. Be careful not to overcook your filets.
Make it sweet, creamy, and bright red
\One of those three tempting qualities should reel them in. As long as coconut is okay, consider a Thai red curry that you can spice to your liking at home. Just stock up on red curry paste and coconut, and preparation is easy. Ideally, you'll also have a fish sauce at hand.
Go pesto
Genovese pesto with basil and parmesan is a classic — stick with that if it works.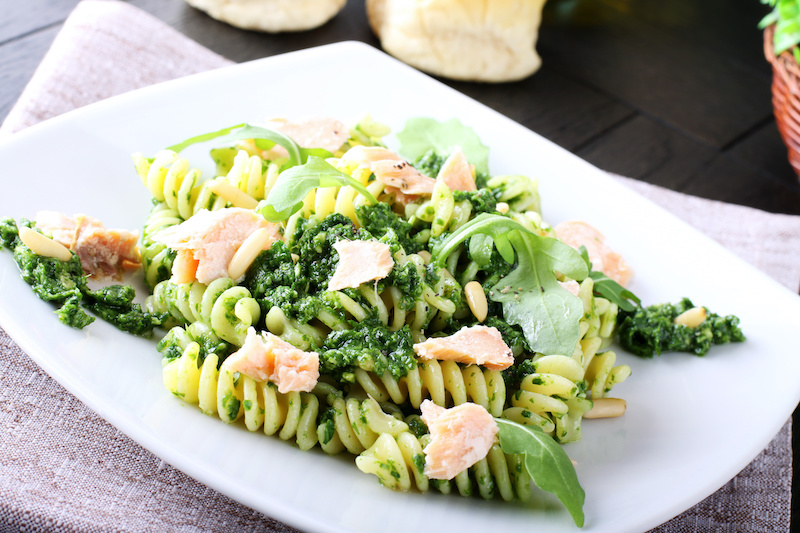 However, Italy boasts a number of other variations that enhance fish. Does your picky eater love pistachios? This recipe for Sicilian pesto is traditionally made with pistachios or slivered almonds mixed with mint or basil (or both), plus a citrus acid like lemon, tangerine, or grapefruit — and no cheese. Love cheese? Although Italians usually don't mix cheese and fish, you certainly can.
Go to town with cheese
It's hard to go wrong with macaroni and cheese, especially if you're working with a young person. After you've made your rich sauce, slip in canned or leftover cooked salmon with the cooked macaroni. You could then put it all in the smoker for a party dish.
Wedding salmon?
As salmon became more popular among Americans, we were more likely to serve it pan-seared. But once upon a time, it was most common to see poached salmon with a sour cream–based cucumber-dill sauce. Indeed, it was practically required at weddings and upscale lunches. This recipe is adapted from the original by Julia Child, the first TV-celebrity cook.
In warm weather, consider serving a cold poached salmon with a sweet version of the sauce, combining the sour cream with Dijon mustard, sugar, dill, and vinegar.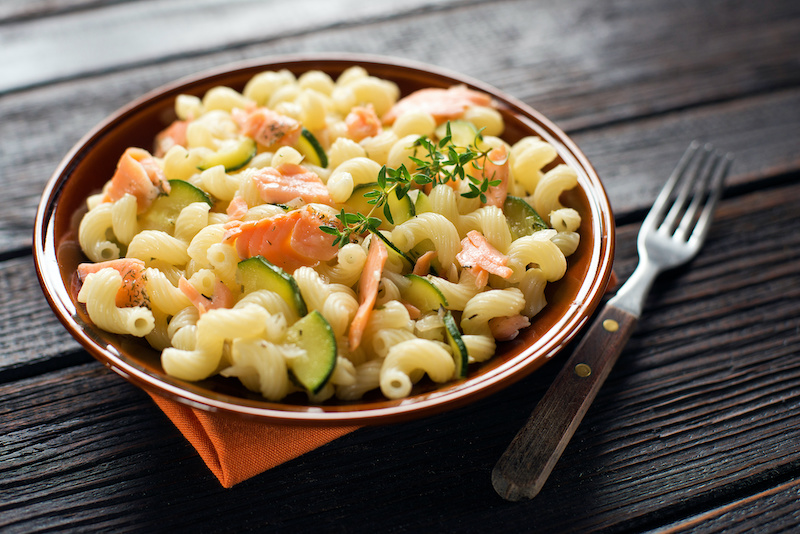 Hide it in a cake
Leftover or canned salmon is perfect for salmon cakes. Adding carbs will tempt most anyone, and so will a surface crisped up in an air-fryer or actual oil. You can use breadcrumbs (as in this recipe), or if you'd like a healthier spin, experiment with protein-rich quinoa. My grandmother used boiled potatoes.
Now that you've tempted your picky eater, employ distraction. Crispy things go with dip. Simply season the salmon cakes with pepper and salt, and serve a pungent chipotle-mayo dip. Or ketchup or Russian salad dressing for a child who loves either. (Remember, you don't have to eat it yourself!)
Make it herby
When time is of the essence, use a herby salad dressing that's already a favorite. To make your own: Chop up flat-leaf parsley, chives, basil, and or mint — anything tender and leafy — add enough olive oil so it pools, grate a garlic clove into the mix, and add vinegar, salt, and pepper to taste.
Lean on the lemon
It's simple but it works. Bake your salmon filet on a bed of sliced limes or lemons and top it with any favorite herbs, as long as you include lemon juice and melted butter.
Our quick cast-iron-skillet recipe will please anyone who loves rich Italian food: It's creamy, cheesy, tomatoey, and garlicky, too. We hope you convert your loved one to salmon. Why should they miss out?
Here's a recipe for a simple and delicious salmon dish that calls for marinating the fish in milk, which makes the flavor of the fish less prominent and adds fall-apart tender juiciness to lean varieties such as sockeye.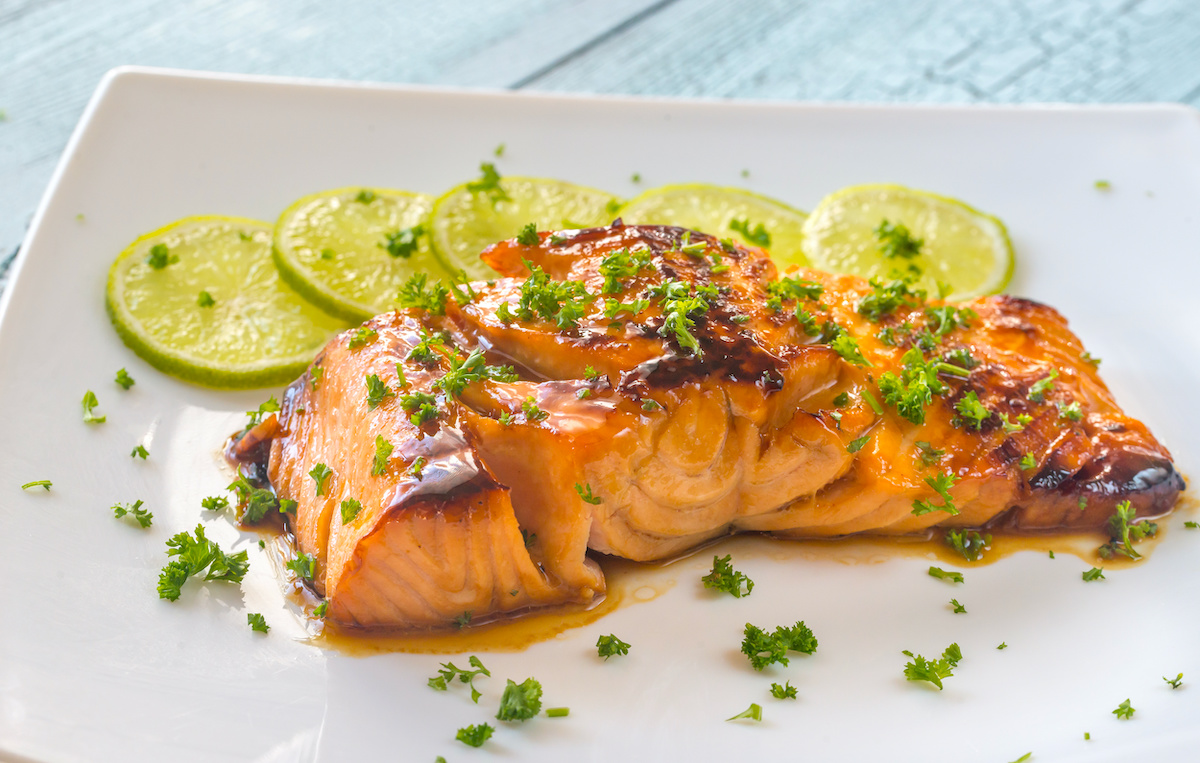 Salmon au Lait (for the Salmon-Skeptical)
Ingredients:
1

cup

whole milk

2

cloves

garlic (minced)

2

tablespoons

olive oil

2

tablespoons

lemon juice

fresh parsley, dill or citrus slices (optional)
Instructions:
In a shallow dish, combine the milk, minced garlic, olive oil, lemon juice, salt, and pepper. Stir until well mixed.

Place the salmon fillets in the marinade, making sure they are fully coated. Cover the dish with plastic wrap and refrigerate for at least 1 hour and up to 4 hours.

Preheat your oven to 400°F (200°C). Line a baking sheet with parchment paper.

Remove the salmon fillets from the marinade and place them on the prepared baking sheet. Discard the remaining marinade.

Bake the salmon for 12 to 15 minutes, or until the fish is cooked through and flakes easily with a fork.

Garnish with fresh parsley or dill, or citrus slices, if desired. Serve and enjoy!

Note: You can also grill or pan-fry the fish if you prefer.